AEON's Corporate Division is currently seeking freelance instructors to teach online and at the offices of our corporate clients and educational institutions on a contract-by-contract basis. Most contracts span a 6-month period consisting of 24 lessons which are 90 to 120 minutes in length. The days and times of lessons are usually consistent throughout the entire contract period (for example, Tuesdays from 17:00 to 18:30), and the vast majority of our contacts are for evening classes.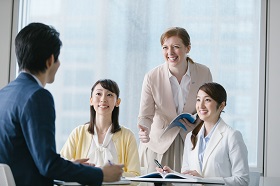 Benefits:
Payment: 2,500 to 4,000 yen per hour (depending on assignment type)
An additional payment upon successful completion of each contract may be paid (depending on assignment type)
Transportation costs reimbursed
Paid training provided
Non-Japanese Applicants must:
have a masterful command of English
hold a valid visa that allows them to work in Japan
hold a bachelor's degree or higher
possess relevant teaching experience
be living in Japan at the time of application
be available to teach at least one weekday evening per week
以下、日本人の方へのお知らせです:
イーオン法人事業本部では、弊社取引先企業、学校に出向き、資格試験対策などの講座を担当するフリーランスの英語講師を募集しています.
通常、資格試験対策クラスは日本語、英会話クラスは英語でのご指導となります.
オンライン応募フォームは、日本語で入力、日本語で作成された書類を添付いただけます.
応募資格:
TOEIC L&R テスト860点以上(取得後2年以内)、英検1級もしくは同等のスキルがある方
過去5年以内に企業、学校での資格試験、英会話指導経験が1年以上ある方
週1日(平日夕方90~120分程度)から稼働可能な方
募集要項詳細は上記英文をご参照ください.
その他ご不明点は、応募エリアのリクルーティングオフィスへお問い合わせください.
Please apply to the Corporate Division Office closest to where you live.
Only applicants who meet all of the above requirements will be considered.
If you are interested in a full-time teaching position at one of AEON's branch schools, please click here