AEON is currently hiring both Native English Teachers and Japanese English Teachers to teach part-time at the offices of our corporate clients and universities on a contract-by-contract basis.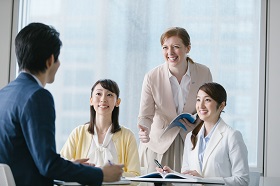 Benefits:
Salary: 3,000 to 4,000 yen per hour
Bonus paid upon successful completion of each contract
Full transportation costs reimbursed
Paid training provided
Native English Teacher applicants must:
be native-level English speakers
hold a valid visa that allows them to work in Japan
hold a bachelor's degree or higher
possess relevant teaching experience
be living in Japan at the time of application
be available to teach at least one weekday evening per week
日本人英語講師応募資格:
TOEIC L&R テスト860点以上(取得後2年以内)、英検1級もしくは同等のスキルがある方
過去5年以内に企業、学校での資格試験、英会話指導経験が1年以上ある方
週1日(平日夕方90~120分程度)から稼働可能な方
Please apply to the Corporate Division Office closest to where you live.
Only applicants who meet all of the above requirements will be considered.
If you are interested in a full-time teaching position at one of AEON's branch schools, please click here