AEON has been integrating digital technology into our curriculum to further enhance the quality of our student care. Digital Transformation (DX) allows AEON to enhance the way teachers and staff communicate with students, thereby increasing the rate of their English improvement and raising student satisfaction.
Traditional Methods of Student Support: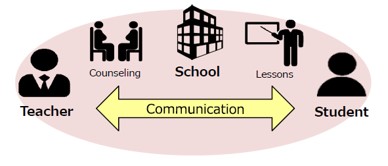 The traditional method of student support relied solely upon face-to-face communication at the school. With the inclusion of new digital study resources for students to use before and after their lessons, AEON is expanding our reach beyond the classroom and helping to maximize students' study habits. The digital study resources help students study more efficiently, rather than just studying more.
AEON's dedicated app, AEON Net Campus, offers a variety of home study exercises that link directly to the lesson that the student is taking during the week. AEON Net Campus utilizes a data-driven approach to adjust the path and pace of learning, enabling the delivery of an adaptive, personalized learning style.
Enhanced Student Support Powered by DX: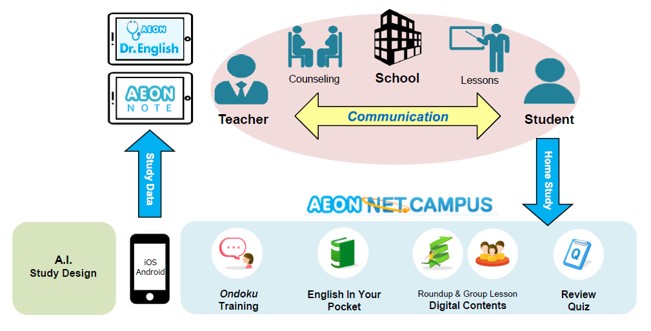 The home study data collected through the AEON Net Campus app is displayed on an AEON-exclusive tablet interface, AEON NOTE, for teachers and staff to use to provide data-driven, educational advice that is tailored to each individual student.
New teachers who are just getting their footing in teaching at AEON also benefit from the Digital Transformation by using the Educational Advice Tool on AEON NOTE. Information on what the student can do to improve is at the teacher's fingertips and is a useful resource to have when counseling students.
The Digital Transformation has built upon AEON's successful L&A Method and offers an innovative way to help our students improve their English while making teachers feel more confident when giving study advice to their students.