At AEON, we pride ourselves on our high level of student care. Our ability to support students in reaching their educational goals is a core reason why our students choose to study with us. AEON teachers are more than just teachers; they are mentors for their students. Caring for our students means sincerely doing everything we can to support them in their studies. The following are some of the numerous ways in which AEON teachers support their students inside and outside of the classroom.
AEON Students
Lobby Talk
The time between classes provides a great opportunity for teachers and students to get to know each other better. Lobby Talk allows teachers and students to talk about a variety of topics not necessarily related to lessons. These include topics such as weekend plans, local cultural events, interests and hobbies. For our students, Lobby Talk lets them make practical use of the English skills they have acquired in our lessons.
Counseling System
For teachers, being able to be personally involved in their student's progress is very gratifying. One of the most effective tools that teachers have to mentor students is through our counseling system.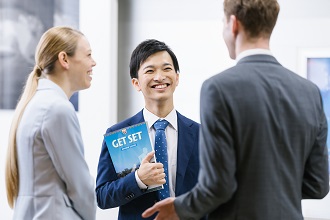 Students come to AEON because they have specific goals for their English studies. Many students rely on the English skills they learn at AEON to help open doors for them both personally and professionally. Through teaching and counseling students regularly, teachers learn their students' strengths and areas where improvement is needed, study habits, and goals.
Through the counseling system, teachers can check on their students' progress and give them appropriate academic guidance. This interaction creates a strong student-teacher bond which benefits not only the student but the teacher as well. It is extremely satisfying as a teacher to see a student achieve their goal, especially when the given study advice and support helped get them there.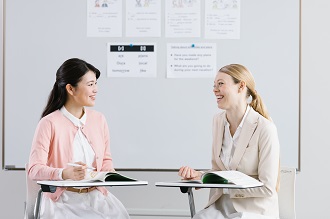 Students receive counseling at set intervals throughout their time at AEON. Teachers address students' questions and concerns, regularly evaluate their level, and provide feedback on their performance. Teachers discuss how they are studying and training at home and suggest more effective ways of improving their weaknesses. Modifications are made to their original course plans in order to achieve their goals rapidly. As students improve, teachers present options for their future courses, aiming to keep our students motivated and help them achieve their goals.
Self-Study
The Self-Study material and its assorted courses were developed in response to student demand for more targeted practice and opportunities to use English outside of class. These short-term courses focus on particular skills or functions. Many courses are designed to be completed outside of class hours. Teachers are involved in helping students select an appropriate course as well as in supporting them to finish the course on schedule. Brief tests on their progress are conducted throughout the course, most of which are done with the teacher. These check tests not only ensure students study effectively, but also increase their motivation.
AEON Kids Students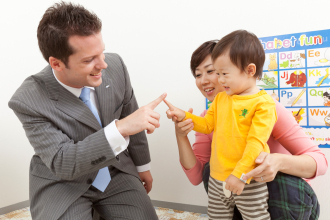 Our ability to support students in reaching their educational goals is a core reason why parents choose AEON to supplement their child's second language acquisition. At AEON, we see ourselves as partners with parents, working together to support their child's English development both inside and outside of the classroom.
Lobby Talk and Class Review
As our AEON Kids students often don't have opportunities to use English outside of school, Lobby Talk provides a great chance to interact with our teachers in English. Between lessons, teachers get to know not only their students, but the parents as well. This allows teachers to motivate their students and get them even more excited to practice English.
The teaching points and vocabulary of each AEON Kids lesson are always reviewed with parents at the end of the lesson. This allows parents to see what their children are learning in each class and shows them specifically how to support their children in reviewing and preparing for the next class. It also allows the students the opportunity to present their improving English skills each week, promoting self-confidence and pride in their accomplishment and motivating them to continue studying hard.
Student Portfolio and Open House Lessons
Each student has a Student Portfolio stored online. The Student Portfolio serves as a way to communicate with parents. At the end of each unit, teachers write comments about the educational progress of each of their students to keep parents informed about their child's progress throughout the year.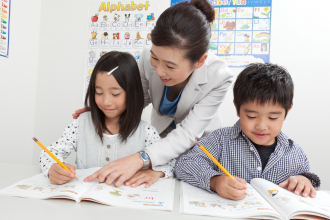 Twice a year the school holds Open House lessons. Parents are encouraged to observe classes and see how their children are doing in class in order to follow their progress during the year. After Open House lessons, teachers have the opportunity to provide counseling to parents to guide them how to support their child's studies at home.
Kids Self Study
The Kids Self Study material was developed to give our students more targeted practice on specific English skills. Through these courses, students can focus on skills such as writing, phonics, vocabulary, reading, speaking, and more, which helps them build confidence and motivates them to practice English at home. Teachers are involved in helping parents select an appropriate course for their child as well as in supporting the student to finish the course. Each week, students will show their work to the teacher and get stickers and rewards to mark their progress.