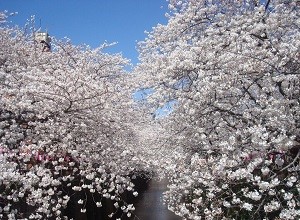 Located about an hour outside of Tokyo, Kasukabe city is the birthplace of the famous cartoon, "Crayon Shin-chan." There is even a game center and exhibit dedicated to Shin Chan! While the game center is a great place for kids and families, adults will find plenty to enjoy too.
One of the parks in Kasukabe also hosts a weekly flea market and a variety of festivals during the summer. They even have a giant kite festival! You can visit Tobu zoo and amusement park, just outside the city as well. In addition, Kasukabe's convenient location near Tokyo helps ensure that you'll never run out of fun things to do on your days off. In just 50 minutes, you can be right in the heart of Tokyo and take in the hustle and bustle of Shinjuku. Living in Kasukabe really gives you the best of both worlds.
For more information about schools in AEON's Tobu area click here.
Here's more from AEON Kasukabe School teacher Anthony sensei:

What do you like about life in your city?
I like that everything in my city is within walking or cycling distance and is very convenient. In addition every summer there are festivals where I can really take in Japanese culture.

What have you found interesting that you weren't expecting to find?

The most interesting thing for me was that I wasn't expecting Japan to be this convenient. Even when I talk to friends back at home in America they're sometimes surprised by things available here. I tell them that I can get just about the same things here that I can get in America, so life is really comfortable for me.
How easy is it to do your errands? (grocery shopping, banking, post office, dry cleaning, etc.)
My apartment and school are both in the center of the city, so running errands is quite easy for me. During my lunch I sometimes go shopping at our mall which is a 2 minute walk from the school.
For more information about AEON from current and former teachers, see AEON's reviews on Glassdoor.