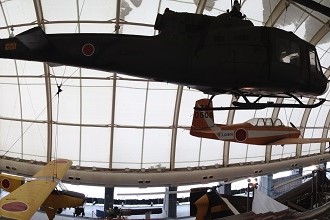 Located less than one hour from central Tokyo, Tokorozawa is a nice, residential city with many green areas and parks. There are many sakura trees, so cherry blossom viewing is very popular in the spring.
Tokorozawa's claim to fame is that it is the birthplace of Japanese aviation. In 1911, an airfield was built in the city and French pilots trained the first Japanese aviators. While no major commercial airport was built in Tokorozawa, it was the center for aviation engineering and experimental aircraft. Today, one can visit the Tokorozawa Aviation Museum in Kokukoen, a park made from the old airfield. Even though planes no longer fly from Tokorozawa, the air traffic control tower that handles all air traffic into Narita and Haneda airports sits right outside the park.
Keeping with Tokorozawa's history of aviation, the main shopping and restaurant street is called Prope Street, short for propeller. For those wanting to get a taste of older Japan, they can visit Sakazuki Yokocho, which has about 20 unique bars and restaurants that will make one feel like they are back in Showa times.
For more information about schools in AEON's Tobu area click here.
Here's more from AEON Shin-Tokorozawa School teacher Anthony sensei:

What do you like about life in your city?

Everything is very convenient. My apartment is within walking distance from my school, the supermarket, and the train station. It also reminds me of hometown because there is an airbase nearby and I can see airplanes flying over the city just like back home.
What have you found interesting that you weren't expecting to find?

I honestly didn't expect to make a lot of friends because I was worried about the language barrier. It turns out, I have made life-long friends during my 3 years of living in Japan.
How easy is it to do your errands? (grocery shopping, banking, post office, dry cleaning, etc.)
At first it was difficult trying to figure out these things, but since I started studying Japanese it has become much easier to do my daily chores. Sometimes I don't have to say much in order for someone to help me with things such as dry cleaning.
Are you involved in any Japanese cultural activities, clubs, sporting activities, etc? What do you do? How did you find out about these activities?
I usually go to social events in Tokyo to meet new friends and discover new hobbies. For example, I recently joined a dodgeball club that meets weekly in Tokyo and Yokohama. You can usually find social clubs through the internet. There are lots of them around Japan and I guarantee that you will make friends. You just have to try!
For more information about AEON from current and former teachers, see AEON's reviews on Glassdoor.