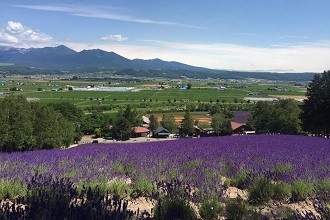 Asahikawa, located in Northern Hokkaido, is a city of rivers. In fact, there are over 740 bridges in the city.
Due to Asahikawa's location in a valley surrounded by mountains, there are numerous ski resorts located just outside the city. Asahikawa also boasts its own snow festival and a snowflake museum, called the Snow Crystal Museum. Whimsically built to look like a European castle, the inside is a fantasy of snowflake decoration and ice filled tunnels.
One must-see in Asahikawa is the Asahiyama Zoo. This zoo features some very immersive exhibits, like a tunnel through the water of the penguin enclosure and a glass dome in the middle of the polar bear exhibit that lets you get right next to the animals.
In the summer, you should check out Ueno Farm for a relaxing stroll through beautiful gardens. The city also has a large community of artisans and there are plenty of places to try your hand at pottery, glass blowing, and fabric arts!
For more information about schools in AEON's Tobu area click here.
Here's more from AEON Asahikawa School teacher Sarah sensei:

What was training like?

I found training week to be very interesting and enjoyable. The trainers were very good at explaining things to the trainees, and always explained things from the beginning. The schedule was pretty tight, and I would like to have had more time on kids lessons, but since some teachers don't teach any kids lessons at all, it was understandable.
There was a lot of hands-on practice, and we received plenty of constructive feedback from the trainers. I could understand what was expected of me as an AEON teacher, and watching the trainers and other trainees helped me to become more confident and feel ready for the new position.
At the end of the training, we had one-to-one meetings with our assigned trainer, who answered all our questions and gave us some advice and support. They had clearly been monitoring my progress and I appreciated their help.
Please describe one of your travels:

I have mostly stayed in my town during vacation periods, with day-trips to neighboring towns or villages with my friends or co-workers. I have been outside of Hokkaido only once so far, since there is already so much to do here.
However, I recently took a week-long trip to Tokyo, which included a visit to Hakone and Nikko. It was quite easy to research, arrange and book everything through the Internet. I also asked some students for recommendations, and one student even asked her friend who lived in Tokyo to send a big pack of leaflets and maps in English for me, which was really useful. I was very surprised by her kindness.
The trip was a lot of fun and I got to see many interesting things that are completely different to back home. The places I visited included Tokyo Tower, Asakusa, the Studio Ghibli Museum, and many art museums and exhibitions.
For more information about AEON from current and former teachers, see AEON's reviews on Glassdoor.