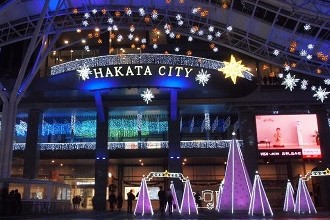 Hakata is a bustling ward of Fukuoka city and was awarded as one of the top 25 most livable cities due to its food scene, shopping districts, transportation, cultural activities, green spaces, cleanliness, and fresh ocean air.
Hakata has a ferry port, which many Japanese locals and tourists catch to South Korea, Taiwan, and China! The ferry services run every day so it's convenient for vacation or a weekend trip. Not only does Hakata have a ferry port, but it is also a Shinkansen, or bullet train, stop. That means you can travel domestically within Japan quickly and conveniently.
One of the most famous festivals in Fukuoka happens in Hakata. The Hakata Dontaku Port Festival brings in nearly 2 million visitors every year and was started almost 800 years ago! These days it can be compared to Carnival in Rio de Janeiro. It typically begins with a speech from the Mayor and carries on with a parade to celebrate three deities of longevity and health. Hakata Dontaku Port Festival takes place from May 2nd – May 4th and is a must see!
For more information about schools in AEON's Kyushu area click here.
Here's the full interview with AEON Hakata School teacher Darree sensei:
For more information about AEON from current and former teachers, see AEON's reviews on Glassdoor.