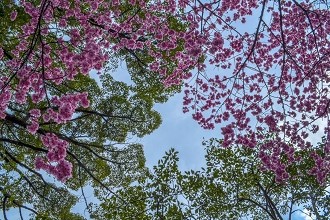 Kokubunji is a residential city on the western outskirts of Tokyo. Many train lines run through Kokubunji so people can easily commute to Tokyo from here.
However, Kokubunji has its own Tonogayato gardens, which is only a three minute walk from the station. It is one of Kokubunji's most famous visitor spots. The garden was created between 1913 and 1915. It's the perfect example of a classic Japanese garden.
Kokubunji also homes its own temple. The ancient temple is right below the Kokubunji Cliffline. The temple has a Tower Gate that was created in 1895 at the entrance of the site. There is also the Niomon Gate that leads into the grounds that dates back to 1764. We recommend going in the spring time to observe the beautiful bloom of the cherry blossoms!
For more information about schools in AEON's Shutoken area click here.
Here's the full interview with AEON Kokubunji School teacher Hilary sensei:
For more information about AEON from current and former teachers, see AEON's reviews on Glassdoor.