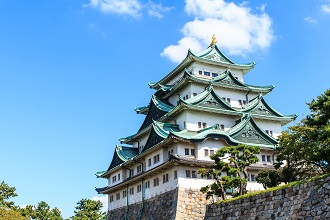 Nagoya is the capital of Aichi prefecture, which is located in central Japan. Nagoya is not only home to historic castles and sites, but is the largest city in the region and the fifth largest city in Japan.
During the Tokugawa period, Nagoya Castle and Atsuta Shrine were constructed. Nagoya castle was reconstructed after World War II and has a newly-constructed, traditional town nestled at the bottom for tourists to enjoy traditional foods and enjoy an "Obon Odori" festival in the summer. Atsuta Shrine, built about 1900 years ago, still attracts over nine million tourists annually.
Nagoya is also a thriving metropolitan area. As one of the world's largest train stations, Nagoya station makes it easy to access not only local spots, such as the downtown area in Sakae and Nagoya Port aquarium and Higashiyama zoo, but provides effortless transportation to surrounding prefectures as well.
Tebasaki is a local favorite in Nagoya. Tebasaki are deep-fried, spicy chicken wing tips. This spicy flavor is so popular that it is often also found in ice cream and potato chips!
Not a big meat eater? Nagoya is also known for its kishimen, which is a broad and flat noodle with a light sweet sake seasoning. Other ingredients in kishimen can be boiled and seasoned spinach, deep-fried bean curd and fish paste.
For more information about schools in AEON's Chubu area click here.
Here's more from AEON Meieki School teacher Mervyn sensei:

How did you make friends when you first came to Japan?

Getting to know your training group and staying in contact with them is a good way to get started. I was lucky to be placed in an apartment complex with a lot of other AEON teachers, so it wasn't hard to meet people initially.
Meeting the friends of my Japanese co-workers was one way I met some Japanese people. Just being sociable and introducing yourself to people at barbecues or bars is a good idea. Making an effort to use Japanese goes a long way, too. I've even become friends with my barber who doesn't speak an ounce of English!
How have ongoing trainings helped you improve as a teacher?

The trainings have been very useful. I've been to half-day trainings that focus on extra-teaching activities like counselings and interviews. It was a good opportunity for me to reflect on my approach and structure and to ask question. I've also had a 1 year follow up training which took a whole day. This was more focused on the teaching side. Again, it was a good opportunity to reflect and improve.
For more information about AEON from current and former teachers, see AEON's reviews on Glassdoor.