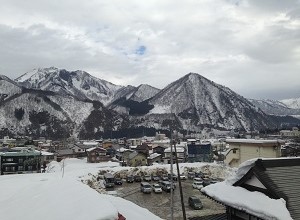 Known as "The City of Water" for the two rivers that flow through it, Niigata is a wonderful city that provides the perfect balance of nature and city life. Niigata is a port city, so you can easily make a trip to Korea, China, or Russia!
In August, be sure to check out the Niigata Festival with a parade and fireworks. The nearby city of Shirone also has a famous kite festival every year in June. Finally, you won't want to miss the Sakenoji Sake Fair in March, where you can sample a variety of Niigata's world-famous sake! For more family friendly fun, the International Snowball Fight Festival is also held every winter in the town of Koide.
Niigata has many famous foods, but it is most renowned for its rice and sake. You can even taste test more than 90 of the prefecture's best sakes from a vending machine in Niigata Station. Before or after sampling, check out Pia Bandai where you can try some of the freshest, locally caught fish in the world!
For more information about schools in AEON's Tobu area click here.
Here's more from AEON Niigata School teacher Cliff sensei:

How easy is it to do your errands? (Grocery shopping, banking, post office, dry cleaning, etc.)

I think I presently live in the most convenient circumstances I have ever experienced! There is a super market (with ATMs), a dry cleaner, two convenience stores, an Izakaya, and a McDonald's all within a 5-7 minute walk from my apartment.
Please describe one of your travels:

On my latest travel, my friend from my initial training and I took a trip to Tottori which is famous for its enormous sand dunes and the inspiration for the book "The Woman in the Dunes." In photos, they could easily be mistaken for a desert, especially with the presence of imported camels! You can ride them for ¥1,500. It was definitely a very unique spot in Japan. While we were there we also checked out a natural history museum which has a preserved specimen of a giant Japanese salamander that was about a meter long. After Tottori, we headed down to Okayama where we stayed in capsule hotel. The next day we took a ferry to an island called Naoshima in Japan's in land sea. A point of interest there was a house that had been turned into a James Bond museum. We wrapped up the trip by heading to Osaka where we explored Dotonburi and partook in some Osaka style okonomiyaki.
For more information about AEON from current and former teachers, see AEON's reviews on Glassdoor.