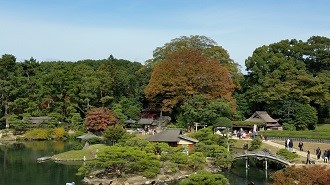 Welcome to Okayama, the "Land of Sunshine!" Okayama tends to have more sunny days and fewer rainy days than most other prefectures in Japan.
Okayama is home to one of the three best landscape gardens in Japan, Korakuen Garden. Here you can find walking paths, a hillside lookout point, a large pond, streams, and their unique spacious lawns. There are even rice fields and an archery range! Just beside the garden is a bridge that crosses over to Okayama Castle.
Its location plays a major role in transportation as Okayama has the only rail connection to Shikoku, Japan's fourth largest island. Cycling is a popular activity throughout Shikoku and many routes offer good views of the Seto Inland Sea.
Okayama also offers quick day trips to Onomichi, a popular port town with sloping hillside temples, and Kurashiki, a picturesque town with historic canals.
Due to its many sunny days, Okayama is popular for growing fruits such as grapes and peaches. If you are interested in Japanese folklore than be sure to read the story of Momotaro, or peach boy, a hero that originated in Okayama Prefecture!
Also, the Headquarters for AEON is in Okayama!
For more information about schools in AEON's Seibu area click here.
Here's the full interview with AEON Okayama Ekimae School teacher Kathryn sensei:
For more information about AEON from current and former teachers, see AEON's reviews on Glassdoor.