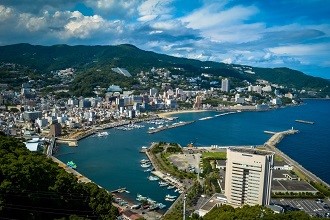 Shizuoka is the capital city of the prefecture and is located on the Pacific coast of Honshu. Shizuoka prefecture itself is known for its access to beautiful nature, such as Mount Fuji and the Izu Peninsula.
Shizuoka city is nicely situated halfway between Nagoya and Tokyo. Both of these cities are easily accessible by shinkansen.
This prefecture is also home to the largest tea-producing area in Japan! It's estimated that 40% of tea leaves consumed in Japan are from Shizuoka. The landscape makes it a perfect area for growth due to the fresh river water and rich volcanic soil. Different areas within Shizuoka prefecture have varying climates which creates distinct flavor across teas.
Up and down the Izu Peninsula and in areas surrounding Mount Fuji, you can find many hot springs, known in Japan as onsens. Some even have views overlooking the ocean or of Mount Fuji!
For more information about schools in AEON's Chubu area click here.
Here's the full interview with AEON Shizuoka School teacher Jessie sensei:
For more information about AEON from current and former teachers, see AEON's reviews on Glassdoor.