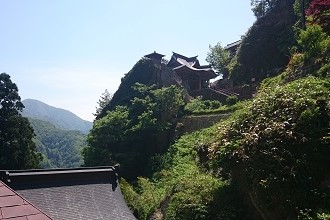 Yamagata Prefecture, in Northern Japan, is home to one of the most beautiful views in Japan. Risshaku-ji, or Yama-dera, is a temple balanced high in the mountains, reachable only by climbing 1000 steps to get to the top.
Yamagata is also famous for cherries. A popular summer outing is to go pick cherries at a farm. After picking a basket, the cherries are weighed, and you have a nice snack for the ride home. In the fall, you have to try imoni, a taro stew, famous all across Northern Japan.
In addition to gravity defying temples, Yamagata also has wonderful ski resorts and hot springs. In the winter, you can't find a more picturesque view than Ginzan Onsen (Silver Mountain Hot Spring) covered in snow. This famous hot spring has numerous historic buildings and is the perfect way to relax after a long week at work.
For more information about schools in AEON's Tobu area click here.
Here's more from AEON Yamagata School teacher David sensei:

What do you like to do on the weekends?

During the winter, my number one activity on the weekend was snowboarding. In Yamagata the winter is long and cold and this year was one of the longest anyone could remember. This means lots of snow and just a short bus ride from Yamagata is Mount Zao, an excellent ski resort. I had never been snowboarding in my life before coming to Japan but after I went once I was hooked! Hiring equipment is so easy, even if you don't speak Japanese. After I had been a couple of times I invested in my own second hand equipment. I went snowboarding with my co-workers, a friend from training, my friends from outside of work, my students and even by myself!
Now that the snow has gone I spend most weekends visiting an izakaya in the evenings with my friends before heading off to either a bar or karaoke. During the day I like to travel to the local towns and experience rural Japan and there is no better way to relax after a day's sightseeing then by going to an onsen.
Please describe one of your travels:

During Golden Week I went to Osaka. If you want to travel somewhere quickly in Japan the best way to travel is by bullet train but this is very expensive so I traveled to Osaka by night bus which is much cheaper but took me 12 hours! Once in Osaka there was plenty to keep me occupied. I went to the Osaka aquarium which is massive. It is on about 6 floors with one giant tank that goes all the way down the centre of the aquarium. I also visited Osaka castle which is a beautiful castle in the middle of the city. The great thing about visiting these places is that because they are in a big city they both had all the information available in English. I visited Universal Studios as well. This was a very strange experience for me as I had been to Universal Studios in America and I could remember some of the rides that I went. A few of the attractions in Japan were identical to the ones in America so it's very bizarre to see things you vaguely remember seeing before but in a completely different language.
When visiting a new city it's always nice to try the new food and in Osaka all my students told me that I should try okonomiyaki which is almost like a Japanese type omelet and I strongly suggest that you try it if you get the chance. They also suggested that I try takoyaki but these are octopus balls and I hate octopus!
The best thing about travelling around Japan as is that even if you speak very little Japanese everyone is really friendly and they will try as hard as they can to help you if they can.
For more information about AEON from current and former teachers, see AEON's reviews on Glassdoor.