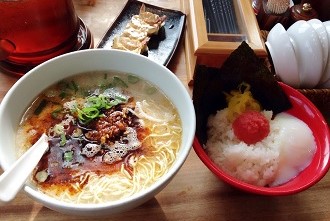 Ohashi is a quiet residential area located near the Minami ward in Fukuoka prefecture. Ohashi has easy access by train to the downtown areas of Tenjin and Hakata.
Ohashi is convenient in terms of everyday things, like shopping for groceries or even going to the gym to stay fit. Around Ohashi station is a number of restaurants serving up local specialties, like the famous tonkotsu ramen! Tonkotsu ramen, or otherwise known as Hakata ramen, is made up of a rich, milky pork broth and thin noodles that are hard in the center.
Just fifteen minutes away from Ohashi is Maizuru park. Around late March to early April, locals head to Maizuru park to experience the beauty of Japanese cherry blossoms. Most head to this park to not only admire the delicate flowers, but have picnics with friends and family in the mild spring weather.
For more information about schools in AEON's Kyushu area click here.
Here's the full interview with AEON Ohashi School teacher Connor sensei:
For more information about AEON from current and former teachers, see AEON's reviews on Glassdoor.