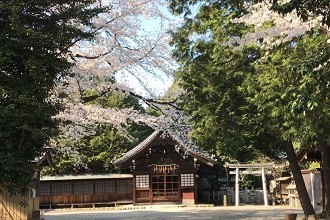 Kasugai is a quiet town located in west-central Aichi prefecture, just north of bustling Nagoya city.
Kasugai holds a Citizens' Noryo (summer evening's cool breeze) and Firework Festival every summer. This summer festival has a beautiful firework display in Ochiai Park, which has been chosen as one of the 100 most beautiful city parks in Japan. Many citizens participate in Obon dance and encourage onlookers to participate. This style of dance is performed across the country during Obon, a religious holiday usually held in August. During the festival, there are plenty of food stalls and game booths for all to enjoy.
Kasugai is also known for its snacks. Founded in 1923, Kasugai Snack Foods is a confectionery company that manufactures candy and snacks for Japan and the world. They are famous for their hard and gummy candies, as well as "Kasugai peas" and "Kasugai peanuts." These delicious snacks are roasted, crunchy peas or peanuts coated in a crispy batter of flour, sugar, and seasoning.
For more information about schools in AEON's Chubu area click here.
Here's more from AEON Kasugai School teacher Julie sensei:

What do you like about life in your city?

I am only an 8 minute walk or a 4 minute bicycle ride from my apartment to the school. The city feels safe and the area is quiet.
There is a very beautiful cherry blossom path that cuts across the city. It is especially beautiful when the petals are falling and the ground is a pink carpet.
There is a supermarket 2 minutes away from my school, which is especially convenient for lunch! The post office and bank are within a few minutes walking distance of my apartment too.
What do you usually do on the weekends?

Well I work on Saturdays so sometimes I manage to meet up with friends after work but more often than not Saturday night is unwinding time. Saturdays are pretty intensive teaching days usually. My days off are Sunday and Monday. I tend to do a variety of activities in between my salsa dance class and Japanese class. I try to meet up with friends. We often go out for a meal and some drinks, visit art exhibitions or go sightseeing somewhere. I also love watching bands, so I sometimes get to see some local groups.
For more information about AEON from current and former teachers, see AEON's reviews on Glassdoor.