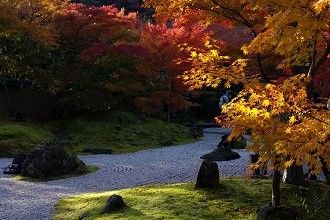 Akishima is a ward in the western part of the Tokyo prefecture. Since its location is a bit outside of the city center, it can feel more like the countryside. However, there are many convivences nearby and plenty to see and do!
Showa Kinen Memorial Park is just a few train stops away and is one of the biggest parks in all of Tokyo. It was developed in 1983, which marked the 50th anniversary of Emperor Showa. This spacious park is a nice escape from the bustling city center and has multiple wide lawns where visitors can relax and enjoy the scenery. In addition to that, there are many walking trails and bike paths. As you can imagine, it's very popular when the cherry blossoms are in bloom, but also quite popular in November. Many of the ginkgo trees are a bright yellow and the Japanese garden has a large number of maple trees.
About 30 minutes away by train is Tachikawa, a very popular shopping district in western Tokyo. Around Tachikawa station you can find many department stores, restaurants, cafes and bars. There's even an Ikea for all your home furnishing needs!
For more information about schools in AEON's Shutoken area click here.
Here's the full interview with AEON Akishima Moritown School teacher Mark sensei:
For more information about AEON from current and former teachers, see AEON's reviews on Glassdoor.